Birds, Bees
& Business
Towards a rich landscape for people and nature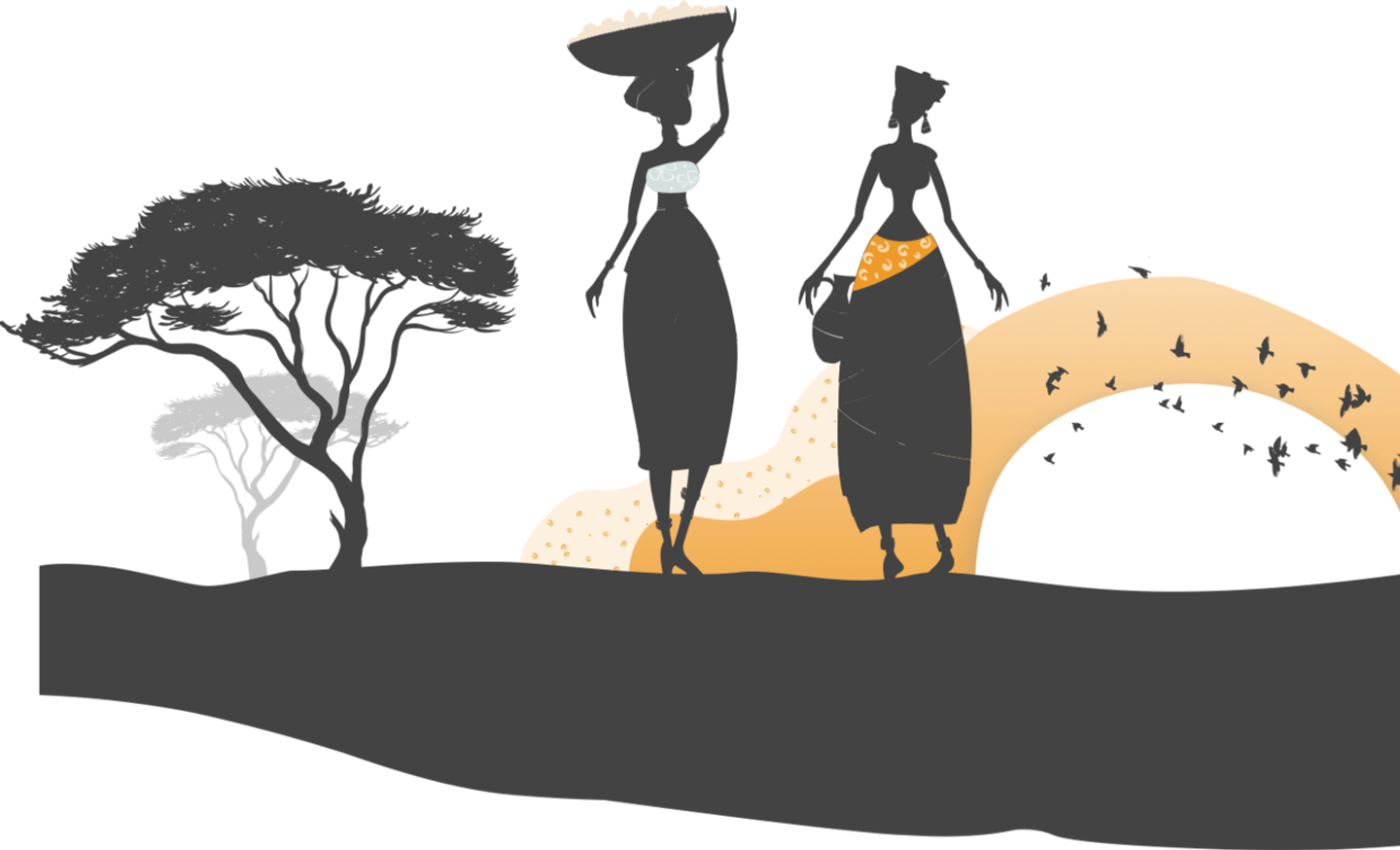 The Sahel
Millions of migratory birds fly each year from the Netherlands to West Africa where they spend the winter. Eddy Zoëy (creative) and Lauren Lewis (content creator and model) joined ICCO Cooperation and Vogelbescherming Nederland (Dutch Society for the Protection of Birds) and followed these birds to their overwintering place in the Sahel. There they saw how the birds live among the shea trees, the fruits of which are used to make shea butter, is used in skincare products all over the world. Accompanied by local women, they saw how the landscape is being restored so that birds and people benefit from biodiversity and a sustainable economy.
"This project is exciting not only because the local people get food and a sustainable income, but because nature is also restoring itself. This way people and nature benefit." - Eddy Zoëy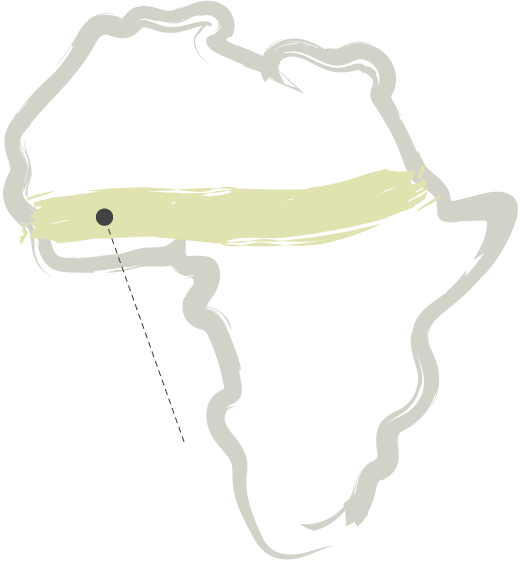 The Sahel is an important overwintering area for European migratory birds
Birds Bees Business on National Geographic
What's the connection between birds, women in West Africa and your hand cream? Eddy Zoëy, a creative, and Lauren Lewis, content creator and model, travelled to West Africa last year in search of an answer and met the women there. A documentary about this was shown on National Geographic on 22 April at 22:00.
What is shea?
Women's gold
The ancient Egyptians used it already 4,000 years ago: shea butter, a vegetable fat made from shea nuts, the kernels of the fruit of the African shea tree. Its many qualities mean shea butter is used in a wide range of care products, and it is also edible.
Our ambassadors
Following the migratory birds
Eddy Zoëy (creative and artiste) and Lauren Lewis (content creator and model) are ambassadors for Birds, Bees & Business. Eddy is a keen birdwatcher and nature lover. Lauren campaigns for a world in which cosmetics contribute to a better life for people and birds.
Every year millions of migratory birds from Europe overwinter in Africa, like this European pied flycatcher.
Destruction of migratory birds' habitat
Migratory birds from northwest Europe overwinter each year in the area where shea trees grow. The shea zone stretches across West Africa, from the Sahel to the savanna woodlands in the south. The migratory birds can catch their breath here after their long journey from Europe, but the landscape is changing. The soil is less fertile and becoming more eroded because farmers are burning trees and shrubs so they can use the land for livestock and agriculture. The shea landscape has also deteriorated because of the illegal felling of trees for fuelwood and construction materials.

These changes have huge repercussions. Local people are seeing their harvests dwindle, and not just the yields of their farm crops but also those of shea nuts and other tree products. The migratory birds, arriving after their long journey, find little to eat. There are fewer insects in the degraded landscape. And insects are not only food for the millions of migratory birds – the shea trees need insects too, for pollination.
High demand for shea butter
There is a huge demand for shea butter. This versatile product has so many uses: as a vegetable fat in lots of food products, from chocolate to croissants; and its moisturising properties mean it is widely used in cosmetics such as creams and hair products.

Global demand for shea butter is growing, creating opportunities for West African women! They traditionally process shea nuts into shea butter and earn cash from this. That's why shea butter is also called 'women's gold'. Most sell their shea locally, but there is potential for women to increase their income in a sustainable way on the international market. For this to happen, it is crucial that shea trees continue to produce enough nuts – the source of the shea butter.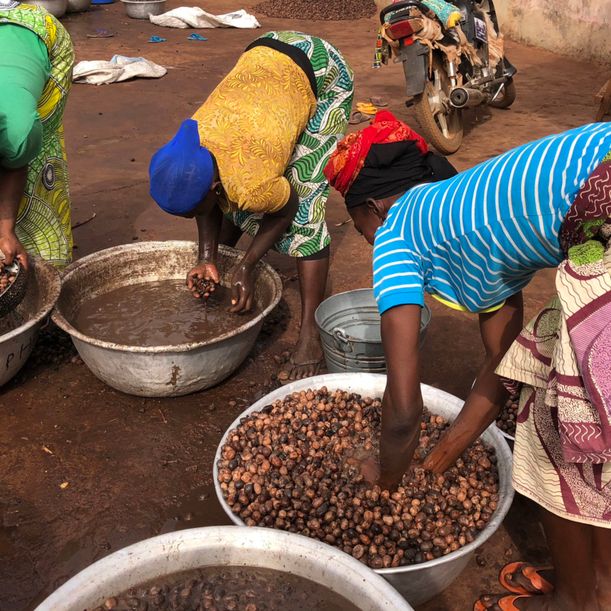 Traditionally it is women who collect and process shea nuts.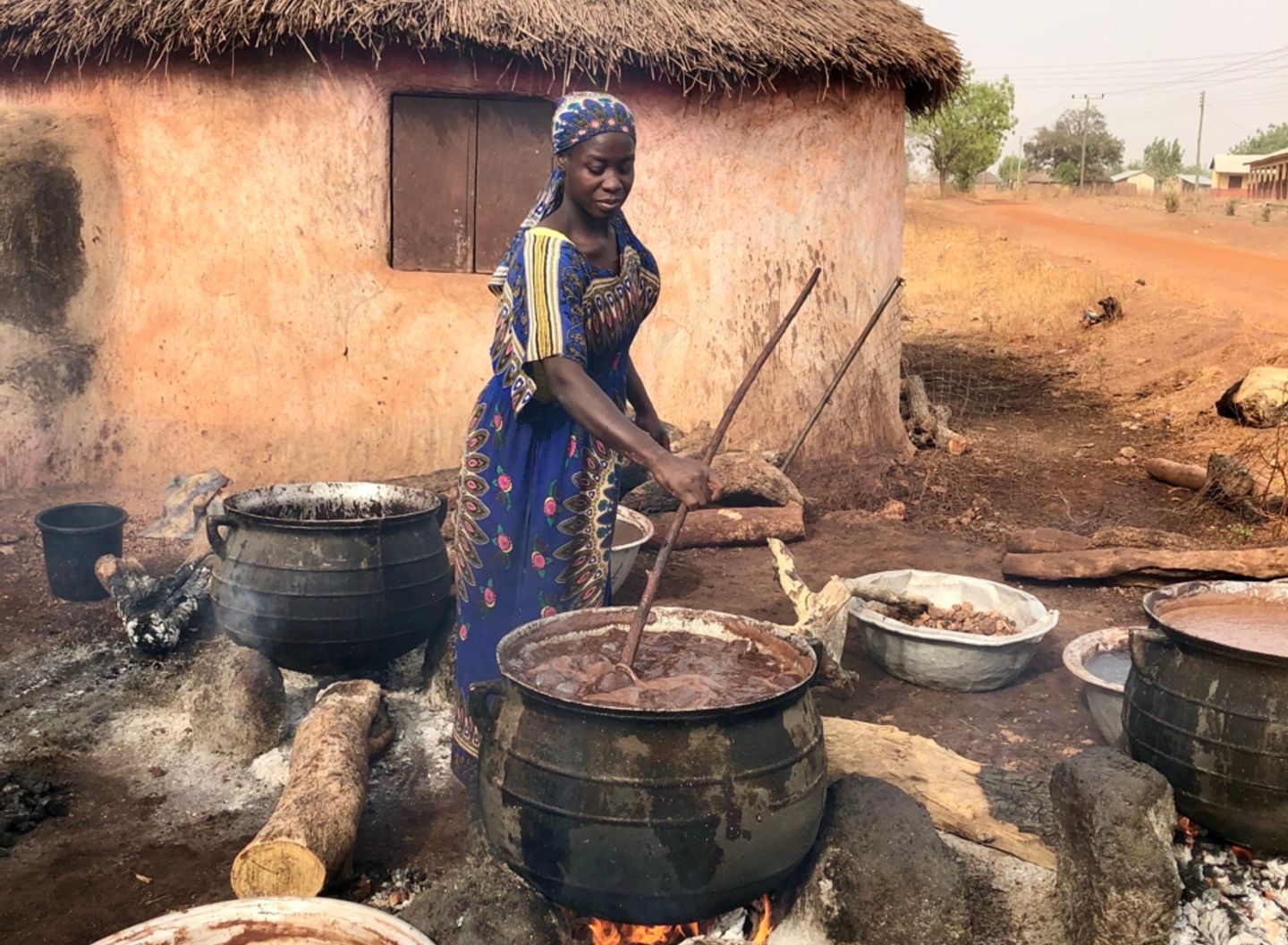 The women heat the shea nuts over a fire, a lengthy process that requires a lot of fuelwood.
What are we going to do?
Restore biodiversity. Humans and nature benefit from restoring biodiversity: the wealth of trees and plants that are native to the Sahel creates conditions in which humans and nature have a future. Shea nut production will be able to continue because there are enough pollinator insects. And these insects are important for the migratory birds too.
A rich land-scape, for humans and wildlife
We see the increasing demand for shea as an opportunity to invest in sustainable habitat restoration, from which humans and birds can benefit. Birds, Bees & Business creates a diverse landscape that provides food for birds and humans, forms a buffer against desertification, and forms a source of raw materials for sustainable business. Habitat restoration also ensures that marketable products, such as shea butter, remain available in the long term. Together we create sustainable benefits for humans and nature.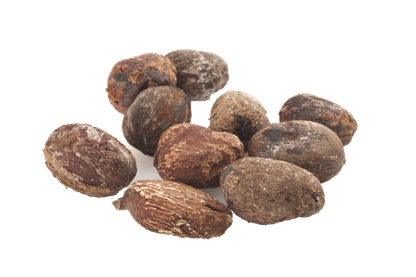 Birds

We create a sustainable landscape. We plant new trees and develop a mosaic landscape in which crops, shea trees and other tree species grow alongside each other. Combining different kinds of trees restores soil fertility and prevents erosion. A species rich landscape provides birds with enough resting places and sufficient food.

Bees

We stimulate biodiversity, which attracts more insects. This is important because without insects, birds have no food. But insects and bees are also crucial to the production of shea butter, because they pollinate trees. Without pollination a tree bears no fruit. That's why we plant trees and plants that attract insects, and beehives increase the bee population. In addition, their honey and beeswax are an extra source of income.

Business

We promote sustainable business. We help the women to improve their production process so that the quality of their shea butter improves, and the supply is more reliable, making their product more attractive to shea purchasing companies. We help the women to organise into cooperatives and link them up with (international) buyers who pay more for the product. By using more efficient cookers they save fuelwood and therefore trees, thus also reducing CO2 emissions.
News
Ambassadors Eddy Zoëy and Lauren Lewis travelled to West Africa to see for themselves what's happening. They met the women who have been making shea butter for generations, and now have a better understanding of the many steps involved in its manufacture. It's a long and physically demanding process. They witnessed the sorry state of the landscape, but they also spoke to people who are working on solutions.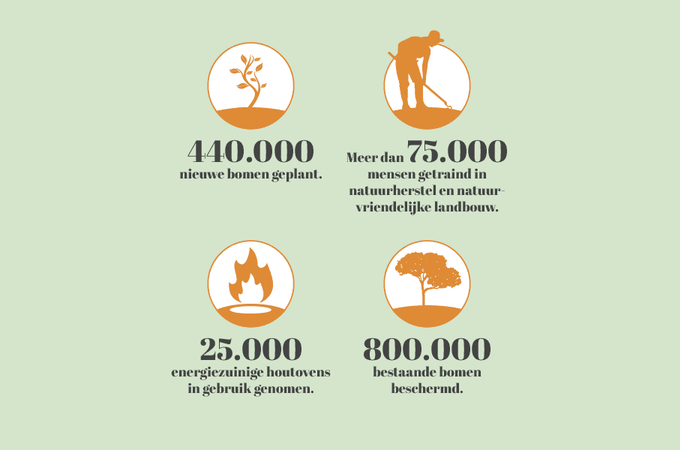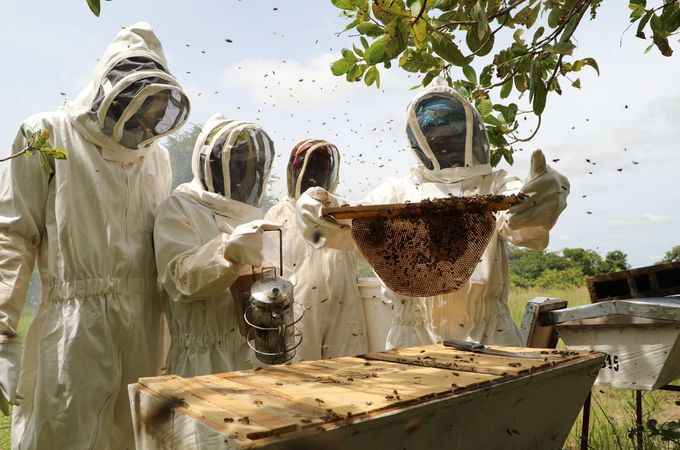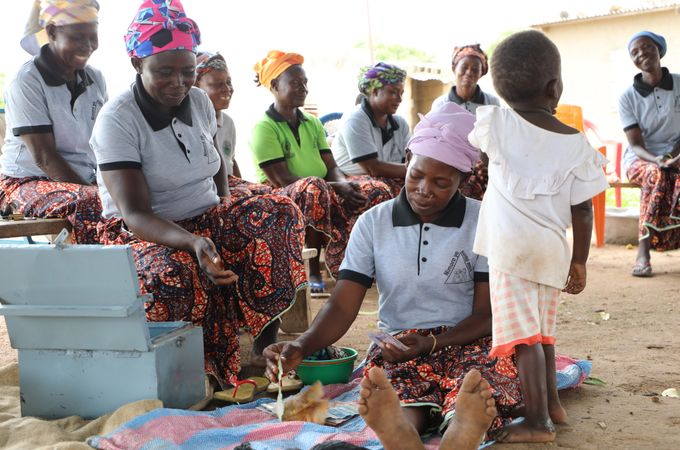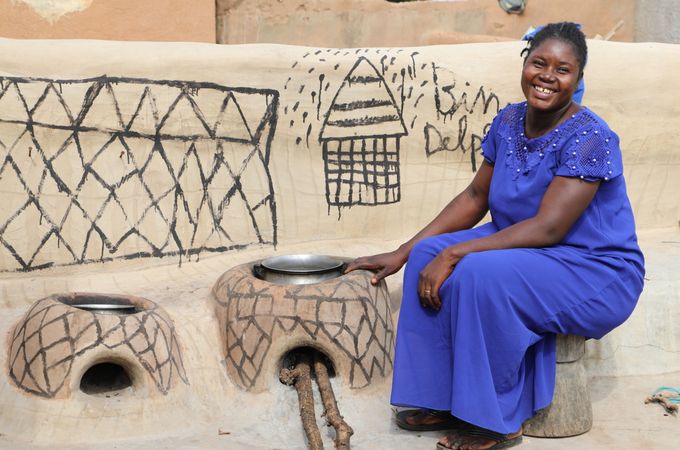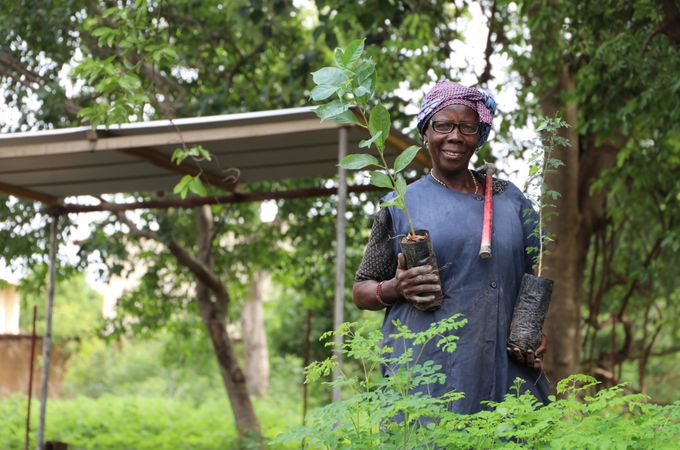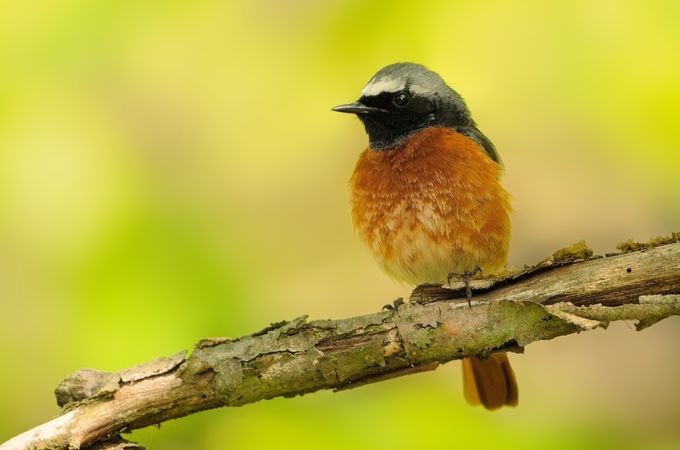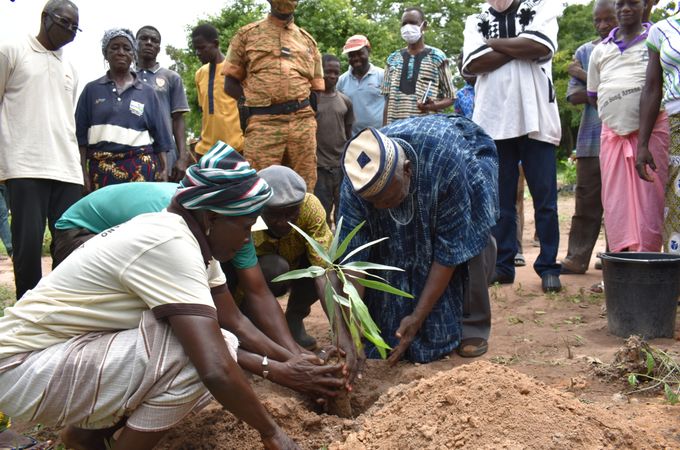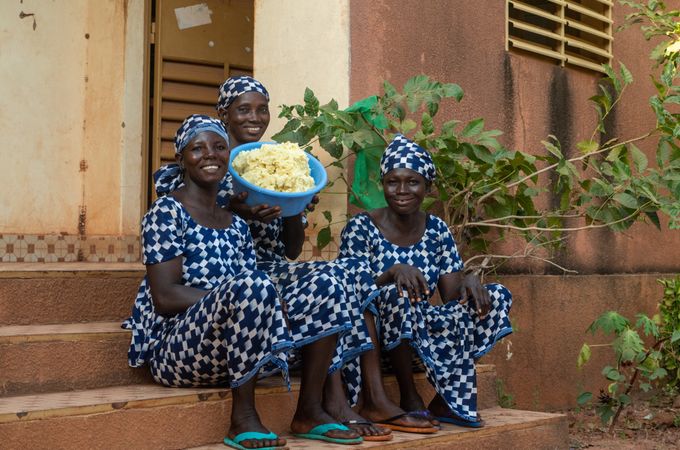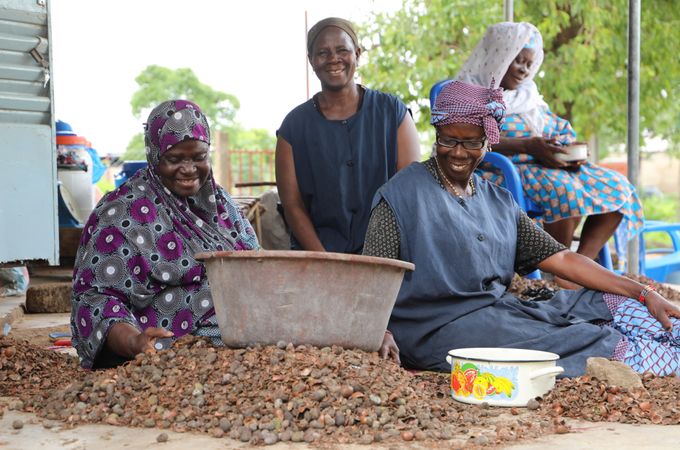 Meet Assita
Assita Dembélé works for Naturama (BirdLife Burkina Faso). Naturama works toward biodiversity conservation and increasing the productivity of agriculture and forestry. Assita's dream is a world in which village communities can make full use of nature's potential. By taking action this dream can become reality.
Assita: "Recent projects show that nature restoration and more sustainable use of natural resources are possible in West Africa. Products from the landscape, such as shea nuts, enable the local population to build up a sustainable livelihood. Humans and nature can benefit! We want our generation to be part of an environment in which everyone plays a role, and one that we can pass on to future generations."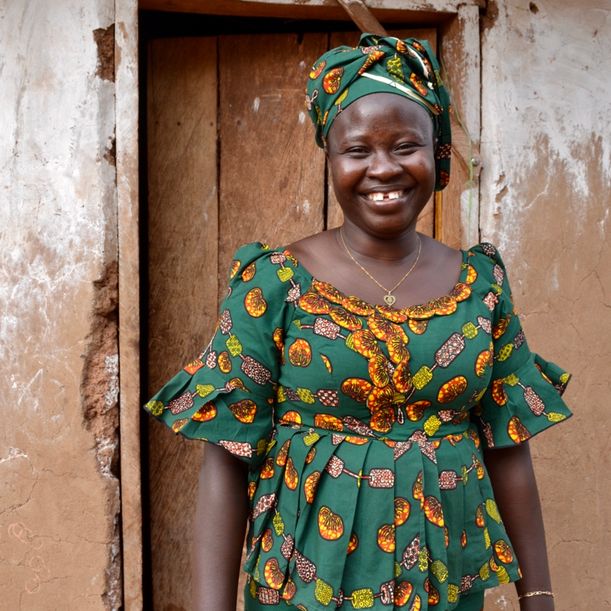 "Nature is important – she smiles at us and welcomes us"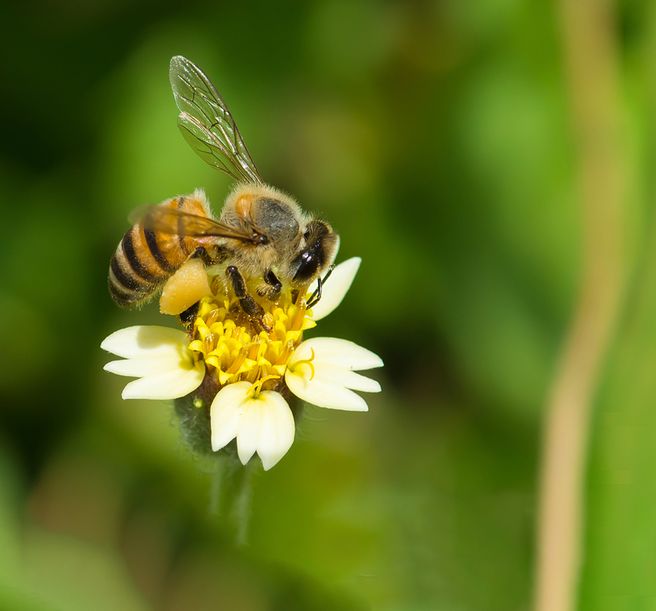 As the biodiversity improves there are already more bees, the beekeepers notice.
About us
ICCO Cooperation and Vogelbescherming (Society for the Protection of Birds) have joined forces to forge an awesome partnership for humans and nature. ICCO Cooperation is an NGO that helps people in Africa, Asia and Latin America to gain economic independence. Vogelbescherming and its local partners work on nature restoration. We do this together with the Fair Climate Fund, which focuses on cleaner cooking and reforestation, thus reducing fuelwood demand so fewer trees are cut down.
By teaming up with businesses, a unique solution emerges that offers the local population a sustainable source of income and makes long-term nature restoration possible. Together we form a partnership for people, planet and profit.